TOTAL PEST CONTROL COVERAGE IS MORE AFFORDABLE THAN EVER.
If we already service your HOA, you can save serious money by scheduling pest control services from AIPM –
Up to $100 for one-time services.
To claim your $100 Off Coupon, Fill out the form and click Submit.
The coupon with a unique code will be emailed to you so you can use it to schedule a one-time service with us.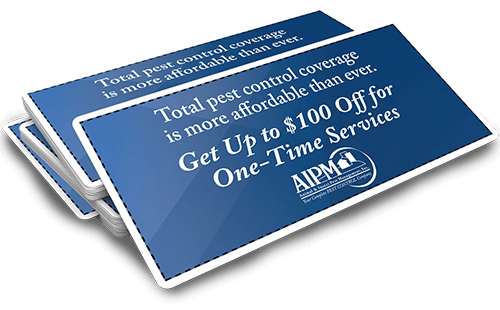 Use AIPM's HOA-approved pest control services to make managing your pest problems easy and affordable.
What can you expect with AIPM:
Excellent Service: All of our licensed pest professionals provide expert care, always.
Real Results: We tackle problems from the source to effectively remove pests from your property.
Customized Pest Plans: No two pest problems are the same. Neither are our treatment plans. We develop custom solutions for every customer.
What pest control services can I expect?
AIPM provides a wide range of comprehensive pest control services for residential properties that are customized to best fit every individual customer.

How can I schedule pest control services?
Fill out the form to get your coupon code and then one of our customer success managers will contact you promptly.

AIPM doesn't service my HOA. What now?
If AIPM does not currently service your HOA we will be happy to give you a very competitive quote for your pest control needs today! Call us Today at (888-344-6567).

Why AIPM?
AIPM already services all of your HOA's common areas so we would be happy to service your private property on the days that we are there, saving expenses (making it more affordable for you!) while also helping to reduce emissions.

Does AIPM provide pest control services outside of the HOA pest control responsibility?
Yes, AIPM provides excellent pest control services for both HOAs and personal properties. If you need pest control assistance, call us anytime at (888-344-6567).
---
Discount is only valid for residents in communities/associations AIPM currently services. This discount does not apply to termites, bees, yellow jackets, wasps, live trappings or exclusion work. Service must be scheduled for the same day as the HOA's regular service to receive the full discount. Lesser discount is available for not scheduled service days. Discount is non transferrable and has no cash value